---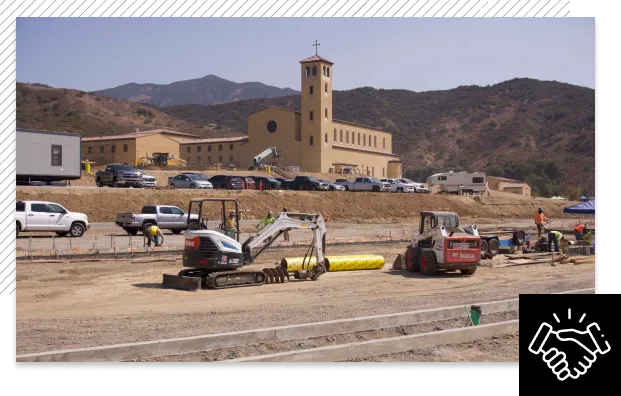 ---
SOUTHERN CALIFORNIA'S PREMIER COMMERCIAL CONCRETE DEMOLITION SERVICE PROVIDER
Experience Optimal Efficiency And Precision With Our Top-Tier Commercial Concrete Demolition Services
---
Demolition Services At DV Contractors Inc., we pride ourselves on offering exceptional commercial concrete demolition services to Southern California and beyond. With years of experience and a stellar reputation in the industry, our team of skilled professionals is dedicated to providing clients with results that exceed expectations. In addition to our comprehensive demolition solutions, we offer expert advice and consultation to help you make informed decisions about your project. Our knowledgeable team can assist with permits, site assessments, and other essential planning steps, ensuring a smooth and successful demolition process from start to finish.
Don't trust just anyone with your commercial concrete demolition needs — choose the experts at DV Contractors Inc. for a job done right. Contact our team today for a free consultation, and let us show you why we're Southern California's premier choice for demolition services.
DV Contractors is a leading commercial concrete contractor serving the Central and Southern California regions. With years of experience and a team of professionals, DV Contractors is the go-to choice for businesses and organizations seeking durable, reliable concrete structures that stand the test of time. From foundations and slabs to walls, columns and more, we have the expertise and resources to deliver outstanding results in every project we undertake.
---
Safe & Efficient Demolition Services for your Commercial Space in SoCal
---
Our commercial concrete demolition services cater to various spaces, including industrial facilities, retail and office buildings, and more. We understand that each project is unique, which is why we tailor our approach to suit your specific needs and requirements. From planning and execution to debris removal and recycling, we handle every aspect of the demolition process with precision and care.
Safety is our top priority at DV Contractors Inc. We adhere to strict safety guidelines and employ advanced equipment and techniques to ensure the well-being of our team and your property. We have ample experience in demolition projects, including:
Floors and Foundations
Experience seamless removal of concrete floors and foundations with our expert team. We ensure minimal disruption to your site while maximizing efficiency and safety.
Parking Lots
Revitalize your commercial space with our efficient parking lot demolition services. Our skilled professionals work diligently to clear the area quickly and prepare it for new construction.
Concrete Bridges and Overpasses
Trust our experienced crew to safely dismantle concrete bridges and overpasses, adhering to strict safety protocols and utilizing advanced techniques to minimize environmental impact.
Walls and Barriers
Safely remove or modify concrete walls and barriers with the help of our seasoned professionals. We employ precision methods to ensure a clean and precise demolition process.
Concrete Tanks and Silos
Rely on our expertise for safely and efficiently dismantling concrete tanks and silos. Our team is committed to providing exceptional results while prioritizing safety and environmental responsibility.
Reach out to DV Contractors Inc. today and let our experienced team guide you through the process, ensuring a seamless and stress-free demolition experience.